About Us
Turtle Dove Cambridge was created to fill a gap in youth support work. With one very specific aim Kate Nation founded Turtle Dove to improve the future of young women who are or are at risk of becoming unemployed through not having the confidence or experience to seek employment. This mission was driven by Kate's first-hand experience in the youth sector where she saw the effects of a system where there are twice as many young women not currently searching for jobs compared to their male peers. She also wanted to create a safe female only space that offers these young women an opportunity to flourish away from the pressure of their male contemporaries, around whom research shows they often don't perform to the best of their abilities.
Having grown organically over the past few years, Kate has ambitious plans to really drive this project forward – reaching more young women than before, offering them the opportunity to strengthen their self-confidence and work towards building successful futures.
By providing them with opportunities in hospitality, working as part of a team and with a defined structure, these young women can gain invaluable life experience. Our team of young women help assist in small-scale events, working on and off site to help ensure the event runs more smoothly and seamlessly. We combine our service with working with various local caterers, other social enterprises as well as supplying our very own vintage china hire.
Our Team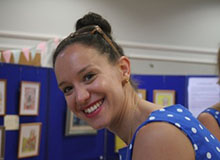 Kate Nation, Managing Director
Kate Nation has been involved in children and youth work since she was 18 both at a local and an international level where she has worked with vulnerable young people and children in a variety of settings. On returning to Cambridge she worked with a charity called Romsey Mill where, as a Young Women's Worker, she saw first-hand the unique challenges that affect this demographic.
With one of the most obvious problems being a lack of confidence, Kate piloted a one-off event: a "Cambridge meets Brazil" family fun day involving young female volunteers. The event's success and its positive affect on the young women gave birth to the idea of Turtle Dove.
Rachel Briant, Systems Support Worker
Rachel Briant is the Founder of Get Synergised a consultancy service that creates opportunities for the business community, charitable and public sector to collaborate for greater social impact.
Rachel has a proven track record in project management, creating and sustaining effective systems and enhancing programmes.
With 20 years of experience in the private, public and charitable sector Rachel is driven by the desire to see individuals flourish and local communities thrive. Rachel believes that the charitable sector, local government and the business sector collaborating together can be a powerful catalyst for change.
Tracey Self, Emotional Support Worker
Tracey Self has spent 12 years working with young people within the health, statutory, voluntary and medical sectors delivering innovative and responsive solutions on a one-to-one and group work basis. Tracey has specialised in working with young people around their emotional wellbeing to increase their participation in social, educational and vocational opportunities. Tracey is a qualified run leader for a local women only running group, which comes in handy as she is frequently running around after her young daughter!
Josie Pietersen, Work Placement Student
Josie Pietersen is an 18 year old student studying Business and Enterprise. She has previously spent a lot of time in education studying psychology, politics and criminology. In addition to this Josie also benefited from the service that Turtle Dove Cambridge offers, volunteering with us for a year. Josie was an integral part of our most recent strategic review which coincided with her module on "strategic planning in social enterprises".
Josie is now on a work placement with us. Alongside gaining experience in different aspects of running a social enterprise, Josie is helping establish and deliver peer support, in an attempt to use her past experiences to provide empathetic support for other young women who are a part of Turtle Dove. She hopes that this will open a number of doors triangulating youth work, as a way to support young women with social interest being the sole motivator.
Event Staff
These are youth workers who also have catering experience. By working alongside the young women at the events and workshops they provide invaluable support and encouragement that helps us get the job done!
Volunteers
From ironing our uniform to helping with administrative tasks we have an amazing team of volunteers! If you would like to know more about how you might be able to get involved do contact us here.
Directors & Advisors
Lilia Giugni, Director
Dr. Lilia Giugni is a political scientist and Fellow in Social Innovation at the University of Cambridge and is the CEO of the think tank consultancy GenPol. She has worked with numerous think tanks and charities on matters of politics, policy-making, gender and education. She has studied at Cambridge, LUISS (Rome) and Sciences Po Strasbourg, and has been a visiting researcher at the London School of Economics and the European University Institute. Lilia is also the chair of F Come, an Italian charity promoting gender equality and publishing an online feminist magazine in Italian and English.
Valerie Vauthier, Director
Valerie Vauthier is a founding director of British Non-Governmental Organisation REM, specialised in the independent monitoring of forests, law and governance and the protection of the rights of forest peoples. She has over 15 years of experience developing, managing and implementing large projects in Africa as well as carrying out investigations, training civil society organisations. She holds an MSc international business and volunteers to support animal welfare in her spare time.
Paul Churchill, Advisor
Paul is an experienced business leader working with one of the country's leading financial organisations. He has led significant change programmes covering customer service, marketing, risk and people and culture. He holds an MBA from the Open University and has acted as a business mentor for the School for Social Entrepreneurs for the last five years.
Ahad Khalique, Advisor
Ahad has spent the last ten years working in successful public and private sector finance teams with his current role working in Assurance for BT Group Plc. He focuses on enabling businesses to better understand how to increase performance through looking at aspects such as improving governance and risk management. Away from work he has a very large family who he loves spending time with and is an avid football fan.
Damien Ribbans, Advisor
Damien is a social entrepreneur with 20 years experience working with social enterprises and charities. Damien has worked in the disability, older people and homelessness sectors and more recently with children's mental health. Damien has experience in starting and scaling social organisations with an interest in operations and impact management.
Ali Rice, Advisor
Ali has held various senior positions throughout her career including 12 years as Managing Director in the Childcare & Leisure sectors leading a company which is now the UK's largest and most successful operator of activity day camps.  Since 2016 Ali has run her own consultancy business working with a variety of small business owners to help them grow their business with a range of services aimed at increasing brand awareness, attracting new customers, transforming customer experiences and revising systems.  Over the past 15 years Ali has contributed to a number of boards and committees and in her spare time she enjoys a very happy (& busy!) family life with her husband and 3 children.
Maria Varallo, Advisor
Maria has over twenty years experience of the not-for-profit sector, a qualified Social Worker and Coach at post graduate level she is Co-Director of Illuminate CIO Cambridge. Illuminate delivers personal development courses, coaching and workshops focusing on building self-confidence, resilience and motivation. Maria has seen Illuminate grow to reach its 10th birthday and is keen to help young women make positive changes in the world with a sprinkling of disruption. She loves dark chocolate, running and her office dog Flash.
Supervisor
Miriam Craddock, Supervisor
Miriam is an Educational Psychologist who supports Turtle Dove Cambridge. Miriam helps us refine our processes and ensure we reflect on every available opportunity to make sure we are providing the best service for young women.
Quotes from the young women:
"Being a part of Turtle Dove has provided me with a number of different roles and responsibilities. For example leading activities, public speaking and promotional work as well as serving at the events."
"It gave me a real sense of responsibility."
"I have enjoyed serving food and drink because I enjoyed serving the customers and being able to meet their needs."
"Every time (before an event) I'm nervous.. I hold back and think 'I might not do it'.. but then I do and enjoy it every time!"