About Us
Turtle Dove Cambridge was created to fill a gap in youth support work. With one very specific aim Kate Nation founded Turtle Dove to improve the future of young women who are or are at risk of becoming unemployed through not having the confidence or experience to seek employment. This mission was driven by Kate's first-hand experience in the youth sector where she saw the effects of a system where there are twice as many young women not currently searching for jobs compared to their male peers. She also wanted to create a safe female only space that offers these young women an opportunity to flourish away from the pressure of their male contemporaries, around whom research shows they often don't perform to the best of their abilities.
Having grown organically over the past few years, Kate has ambitious plans to really drive this project forward – reaching more young women than before, offering them the opportunity to strengthen their self-confidence and work towards building successful futures.
By providing them with opportunities in hospitality, working as part of a team and with a defined structure, these young women can gain invaluable life experience. Our team of young women help assist in small-scale events, working on and off site to help ensure the event runs more smoothly and seamlessly. We combine our service with working with various local caterers, other social enterprises as well as supplying our very own vintage china hire.
Our Team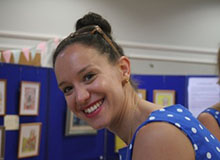 Kate Nation, Managing Director
Kate Nation has been involved in children and youth work since she was 18 both at a local and an international level where she has worked with vulnerable young people and children in a variety of settings. On returning to Cambridge she worked with a charity called Romsey Mill where, as a Young Women's Worker, she saw first-hand the unique challenges that affect this demographic.
With one of the most obvious problems being a lack of confidence, Kate piloted a one-off event: a "Cambridge meets Brazil" family fun day involving young female volunteers. The event's success and its positive affect on the young women gave birth to the idea of Turtle Dove.
Tracey Self, Emotional Support Worker
Tracey Self has spent 12 years working with young people within the health, statutory, voluntary and medical sectors delivering innovative and responsive solutions on a one-to-one and group work basis. Tracey has specialised in working with young people around their emotional wellbeing to increase their participation in social, educational and vocational opportunities. Tracey is a qualified run leader for a local women only running group, which comes in handy as she is frequently running around after her young daughter!
Heather Pearson, Team and Admin Co-ordinator
Heather has been working in the field of mental health and disability for the last 15 years, first as an Occupational Therapist and then later managing public health programmes. She has had a broad range of work experience that includes working in the inner-city in Canada with people affected by homelessness, supporting people with disabilities affected by the earthquake in Haiti, and promoting access to mental health services in Sierra Leone. Heather has a passion for promoting wellbeing and equality in communities, both on local and international levels. When Heather isn't chasing her 2 young children, you'll find her teaching yoga in and around Cambridge. Heather loves being outside and is a sucker for a good coffee and chocolate.
Claire Milbourne, Business Development Worker
Claire has worked in business management in both commercial and healthcare settings for over 15 years. She has vast experience in event management with a particular passion for all things wedding! Claire also works as corporate Governance and Engagement manager for a mental health trust where she champions the importance of the public voice, with a particular focus on young people. In her spare time Claire can be found in her wild flower meadow in Norfolk. Here she feels most creative, working on floral arrangements for weddings and events as well as delivering floral wellbeing workshops.
Event Staff
These are youth workers who often also have hospitality experience. By working alongside the young women at the events and workshops they provide invaluable support and encouragement that helps us get the job done!
Volunteers
From ironing our uniform to helping with administrative tasks we have an amazing team of volunteers! If you would like to know more about how you might be able to get involved do contact us here.
Directors & Advisors
Sarah Hewett, Director
Sarah is a finance professional by training and a social entrepreneur at heart. She has worked for Innocent Drinks and Abcam in financial business planning roles, but also founded her own social enterprise Monthlies, a subscription service for environmentally friendly menstrual products, with a strong campaigning ethos, working to improve access to menstrual products for women globally. She is highly passionate about gender equality and environmental issues. Before becoming a Director, Sarah volunteered with Turtle Dove for two years and continues to do so.
Rachel Leslie, Director
Rachel has over 15 years experience working in children's social care, shaping, managing and delivering a range of services. She is currently leading a DfE Innovation project supporting young people leaving care into adulthood across Cambridgeshire, Norfolk and Peterborough. Rachel is passionate about changing the pathways for young people by building confidence, opening up new experiences and being aspirational. Rachel works for Break Charity, a leading regional children's charity and sits as part of their leadership team. In her spare time Rachel loves spending time with her 3 boys, enjoying all that Cambridge has to offer and a good bit of yoga.
Fiona Mills, Director
Fiona's background is in hospitality management education, and her two degrees are in this area and has been proactive in developing and promoting skills and knowledge since her own graduation in 1984. She has lectured in both hospitality management and general management at Leeds Metropolitan University as a Senior Lecturer and at Westminster College and Westminster University as a visiting lecturer. A Fellow of the Institute of Hospitality she has worked as an external examiner with the Institute since 1992 and has undertaken consultancy for City and Guilds and some smaller hospitality organisations. Fiona is passionate about young people realising their potential and being open to opportunities, and loves helping students with achieving their dreams. Fiona has been involved with the Children's Society as Parish Co-Ordinator for 18 years and this has involved fundraising for the organisation. She is very involved with the Women's Institute both at a local and Federation level, being Chair of the Federation Cookery and Crafts Committee and a Member of the Federation Board of Trustees. As a mother of 2 children who are both in higher education she does not have much spare time but loves music, sewing and knitting and walking her dog Coco.
Sandra Roper, Director
Sandra is passionate about seeing women reach their potential in life. She is a firm believer that whilst you cannot change your past but you can change your future and that everyone deserves the opportunity to become the best version of themselves. She has given much time over the years to helping others develop the skills and disciplines needed to move forward in their life.
Following a first class degree in physiotherapy, Sandra practised as an Orthopaedic Physio before taking time out to raise a family and run a business.
Committed to empowering women she had a life-changing experience in Uganda visiting a project that gave women the skills to run their own business.
At work Sandra leads the operations of The C3 Church, Cambridge. With over 1000 people attending services each week, conferences and events throughout the year there's never a dull moment as she leads a team of staff and volunteers – ensuring the attention to detail that is required in a large church setting.
Sandra loves to travel, is never happier than when cooking for family and friends or being creative in her garden and is currently addicted to gritty Welsh television dramas!
Paul Churchill, Advisor
Paul is an experienced business leader working with one of the country's leading financial organisations. He has led significant change programmes covering customer service, marketing, risk and people and culture. He holds an MBA from the Open University and has acted as a business mentor for the School for Social Entrepreneurs for the last five years.
Ahad Khalique, Advisor
Ahad has spent the last ten years working in successful public and private sector finance teams with his current role working in Assurance for BT Group Plc. He focuses on enabling businesses to better understand how to increase performance through looking at aspects such as improving governance and risk management. Away from work he has a very large family who he loves spending time with and is an avid football fan.
Damien Ribbans, Advisor
Damien is a social entrepreneur with 20 years experience working with social enterprises and charities. Damien has worked in the disability, older people and homelessness sectors and more recently with children's mental health. Damien has experience in starting and scaling social organisations with an interest in operations and impact management.
Ali Rice, Advisor
Ali has held various senior positions throughout her career including 12 years as Managing Director in the Childcare & Leisure sectors leading a company which is now the UK's largest and most successful operator of activity day camps.  Since 2016 Ali has run her own consultancy business working with a variety of small business owners to help them grow their business with a range of services aimed at increasing brand awareness, attracting new customers, transforming customer experiences and revising systems.  Over the past 15 years Ali has contributed to a number of boards and committees and in her spare time she enjoys a very happy (& busy!) family life with her husband and 3 children.
Supervisor
Miriam Craddock, Supervisor
Miriam is an Educational Psychologist who supports Turtle Dove Cambridge. Miriam helps us refine our processes and ensure we reflect on every available opportunity to make sure we are providing the best service for young women.
Quotes from the young women:
"Being a part of Turtle Dove has provided me with a number of different roles and responsibilities. For example leading activities, public speaking and promotional work as well as serving at the events."
"It gave me a real sense of responsibility."
"I have enjoyed serving food and drink because I enjoyed serving the customers and being able to meet their needs."
"Every time (before an event) I'm nervous.. I hold back and think 'I might not do it'.. but then I do and enjoy it every time!"